We've all been there. You shiver out of your sleeping bag and pile on layer after layer of clothing. You sling your pack on your shoulders, affix your gun or bow somewhere stable, and look up at the elevation you must gain to reach your glassing spot. Then you start climbing.
Sometime after the first 15 minutes, the first bead of sweat trickles down your spine. Another one escapes from under your hat down your temple. A third and fourth collect in each armpit. Those singular beads eventually multiply, and before you know it, you've reached both your glassing spot and an irreversible level of drench. The first and second gusts of wind feel good. The third one sends you right back to shivering again.
One tenet of land-based outdoor recreation is truly universal. It spans all interests, levels, ages, and regions. It even extends to some water activities, too. Say it with me, folks: staying dry means staying out there. But you might be surprised to learn that some of the best pieces aren't the ones that keep you protected from the elements around you. Instead, they protect you from conditions your body creates from within.
That's why First Lite partnered with 37.5 Performance Enhancing Materials in 2013. Now, a majority of First Lite's products feature 37.5 Technology, from blended Merino base layers to heavy-duty outerwear, from gloves to gaiters. But what does that technology actually do? Here's everything you should know about hunting's best textile improvement to date.
Origin Story
First Lite came to life in 2007 after founders Scott Robinson and Kenton Carruth got sick of hunting all fall and winter in brightly-colored Merino wool skiing garb. They weren't willing to sacrifice Merino's well-documented warmth, scent-evaporating, and moisture-wicking capabilities for lower-quality camouflage gear, and no one had yet figured out how to apply camo to Merino products. So, they did it themselves.
They eventually progressed to Merino wool with a mineral enhancement that had recently become popular: activated carbon. Hunting gear companies figured out that adding activated carbon molecules to clothing fibers helped move moisture and odor away from the body at a rapid rate. So, First Lite joined up with 37.5 by Cocona, now 37.5 Performance Enhancing Materials, to take their Merino products to the next level.
"While it's a synthetic-based technology because it has active mineral fibers, those fibers work with instead of against the Merino wool," said Gregg Farrell, First Lite's whitetail product line manager. "Merino does a really good job of regulating body temperature, but when you put something on over top of that, you're kind of creating a shell around it. Where a synthetic technology might limit Merino's ability to do its job, 37.5 kind of accentuates it."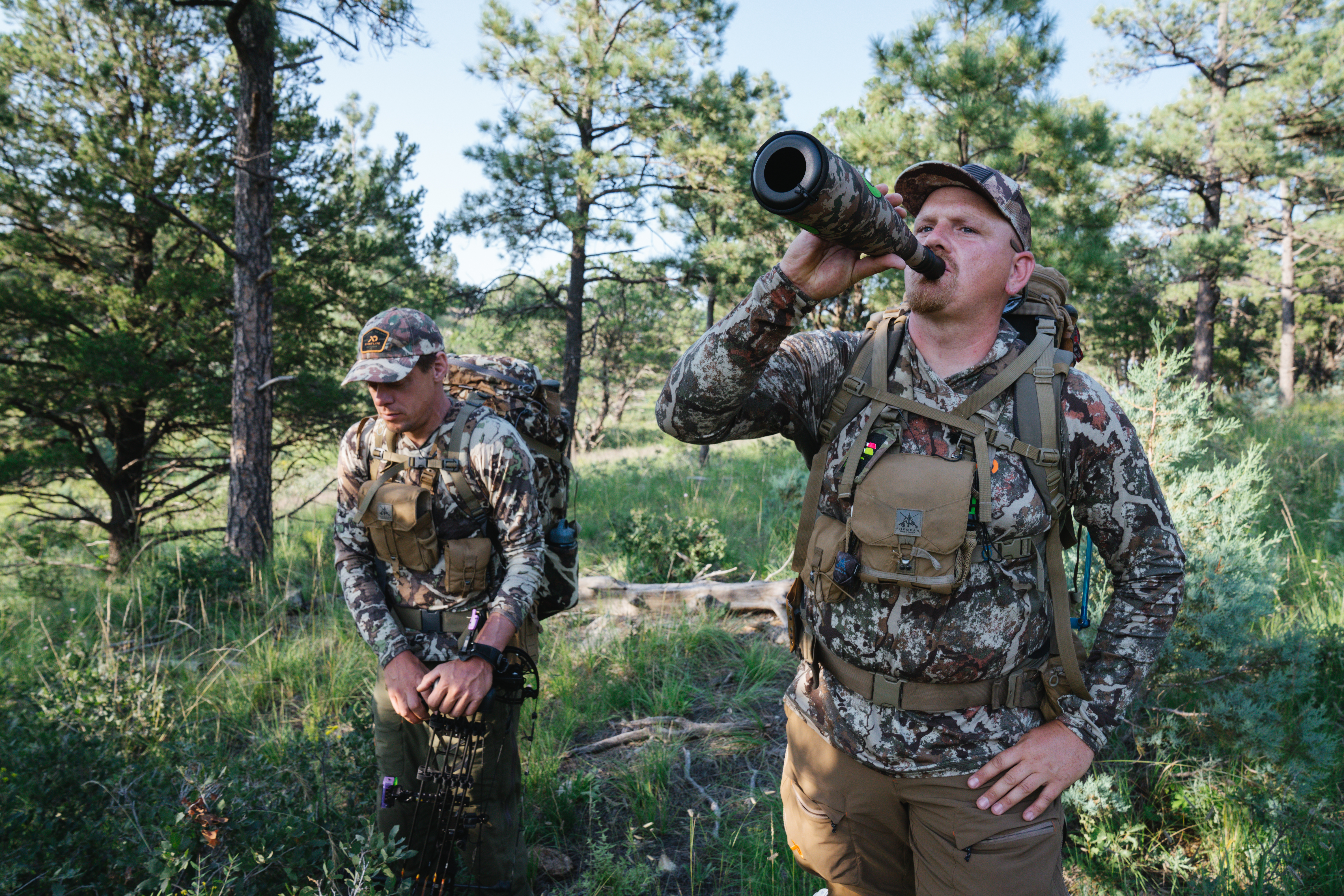 These pieces are made for layering. By stacking a few garments on top of each other, each one works to pull the sweat from the layer underneath it, funneling it out to a point where evaporation is much easier. Or, if you're in a colder climate or on a less-mobile hunt, they also work to insulate and maintain your body heat by reflecting it back toward you. Either way, 37.5 Technology's ultimate goal is to keep your body at 37.5% relative humidity and 37.5 degrees Celsius—the ideal level of external humidity and warmth for maximum comfort in the outdoors.
Comfort Without a Shelf Life
One common gripe with mineral-enhanced hunting clothes is that the minerals eventually wear off or wash out. Other brands use external treatments to add enhancements to their products but those treatments come with a ticking clock. First Lite's 37.5 pieces work a little differently.
"The carbon and charcoal in linings on other jackets and pants would wash out over time, whereas this is spun at a molecular level to the fabric. It can't wash out," said Logan Williamson, First Lite's waterfowl product line manager. "These carbon molecules are bound to the fibers of the fabric. So, you never have to worry about a diminishing return on the lifetime of the garment."
Logan pointed out that washing these pieces actually recharges their mineral molecules by breaking the bond between the molecules and the sweat, oil, dirt, or odor. The molecular matrix can get clogged up with those standard byproducts of a good hunt, so washing 37.5 gear is highly encouraged to reset the garment to its original state.
According to Gregg, the most reliable way to wash Merino gear with 37.5 is with cold water and then hang it to dry. Find a scent-free detergent too—not just because perfumes will send whitetails sprinting for the hills, but because even those perfumes will bind to the mineral fibers and re-clog them. Instead, save the textile's capacity for your own…uh…perfume.
Something for Everyone
Ultimately, First Lite's 37.5 Technology line is designed to help all hunters in one way or another. Its capacity for thermoregulation aids Western big game hunters as they clamor all over the mountains and build up a sweat right before reaching a peak and a powerful wind. Its scent-eliminating abilities keep whitetail nuts nearly untraceable in the Midwestern woods and field edges and insulates for a long day in the stand or saddle. And for waterfowlers who face a constant battle between external water repellency and internal breathability, 37.5 Technology might end up being the next great fix if wicked moisture can find channels to the outermost layer.
So, put some trust in the power of minerals. The next time you pull on your Wick Hoody, your Catalyst Soft Shell jacket and pants, your Brambler Gaiters, or just about any other First Lite piece stored in your garage, know that those teensy bits of lava rock woven into your clothes are on your side.
"It goes back to the origin of First Lite," Gregg said. "Scott and Kenton were huge backcountry skiers, they both mountain bike, they both road biked, they both pursued all these Western recreational activities, and they were wearing Merino wool to do that. Then hunting season would come around and they'd put on their synthetics and after a day they smelled so bad they couldn't stand themselves. With the foundation of Merino being so good, 37.5 is the synthetic component that complimented what Merino can do. It's a match made in heaven."